The Asai Cup International Karate-Do Championship Tournament
The " Asai Cup International Karate-Do Championship Tournament" has been postponed until the new coronavirus infection is resolved.
IJKA Secretariat Office Relocation
In accordance with the Japanese government's request to stay at home, under the current Covid-19 pandemic situation, IJKA secretariat has moved its office to the IJKA Head Office at below address:
3-15-16 Sekimachi Minami, Nerima-ku, Tokyo 〒177-0053
Email:info@ijka.jp
陳宏宗主席師範の逝去を悼みます

陳宏宗主席師範、享年94歳にて永眠されました。

ご冥福をお祈りするとともに、謹んでお知らせ申し上げます。
葬儀告別式は下記のとおり執り行われます。
陳宏宗主席師範 網路公祭
コロナの関係で台湾の葬儀に参加出来ない方は、ネットで一緒にあらゆる儀式に参加できます。
時間:10月7日 14時~16時
URL:
http://w9.mso.taipei/tbmlive/
ID:1091005889
password:8fa02d2a
ドイツのMr.Otto Riedingerより弔文が届きました。
LETTER OF CONDOLENCE

We, Instructors and Members of Senbukai Germany want to express our heartfelt condolences to the family, friends and students of Chen Hung-Tsung Shuseki Shihan in Taiwan.

We share your grief about losing our Chief Instructor of I.J.K.A., who was an inspiration for all of us. He was both a stern instructor and a very gentle teacher, a highly knowledgeable master of martial arts and also a man with deep wisdom about life.

We were very lucky about him succeeding his brother-in-law Tetsuhiko Asai as Chief Instructor of I.J.K.A. and spreading martial arts of the highest level. Furthermore we are deeply indebted to him for his generous acceptance and teachings when we visited Taiwan.

He will be in our hearts and minds when we practice the martial arts and he will watch over us together with the late Asai Tetsuhiko Shuseki Shihan and Bruno Koller Shihan as a founding father of I.J.K.A. Asai Karate.

We will fondly remember him with our utmost respect.

SENBUKAI GERMANY

Otto Riedinger

Chief Instructor


---
台湾の林茂椿より弔文が届きました。
Life of Great Sensei Chen Hunt-tsung

Great Sensei Chen Hunt-tsung was born in Taichung, Taiwan in 1927. He graduated from Taichung Normal School during the Nikkei era (Japanese colonial era) and was one of the few outstanding students who received higher education at that time.

Throughout his lifetime, he was fascinated by martial arts. When he was young, he traded in all his house belongings so that he could learn various martial arts from masters in various fields. He then mastered martial arts such as judo, kendo, judo, White Crane Fist and seven section whip. He was also an important figure in helping introducing karate to Taiwan. For the last thirty years, he devoted himself to studying Chinese medicine and health care. He has achieved an amazing feat and contributed to the people.

When Great Sensei Chen was teaching martial arts, he not only organized the martial arts techniques into orderly teaching materials, but also used phenomena that are universal in daily life to interpret the principles of technique and its operation to the students. He was always ready to teach us everything he knew.

In addition to martial arts techniques, he placed great importance on the personality and training of his students. He also cared for the vulnerable in society, making him truly a master of martial arts and spiritual practice.

 It is worth noting that Great Sensei Chen was not only a master of martial arts, but also received a complete Japanese education making him fluent in Japanese. What is even more moving is that he self-taught English, studied hard, and became an English teacher at the famous Mango English School in Taichung City at that time. He was exceptional both scholarly and physically.

Today, the life of the big master has reached a peaceful ending. And we are still reluctant to accept it. We miss everything about him. His name will no doubt remain in everyone's heart forever, and they will surely succeed his achievements, and advance them further.
Thank you for seeing off the final journey of Great Sensei Chen.
I wish him the way is going well.

林茂椿敬書
---
此の他多くの弔問をいただき有難うございました。
"Chen Hunt-tsung Sensei" – The Name Engraved in My Heart
In the morning of September 24th, it was when I was about to head to a semiconductor trade show, a crucial annual event for my company, I received a call from the Head of the Technical Office Chen.
He could barely speak as he choked on his words sobbing, but managed to tell me that the Grate Sensei had passed away that morning.
I was stunned, then fell into an abyss. I didn't go to the trade show. I stayed home, and I kept seeing the images of our memory that goes back over 40 years.

Over 40 years ago, when I first started learning Karatedo, because most of the members were already middle aged or in senior years, he taught us the martial art in the following order: The use of joints, the flexibility, the speed, the snap that allows you to stop in mid-movement. Only after that we were able to learn about accuracy and certainty of each movement.
Many of the older students progressed rapidly, even comparable to the younger ones, because he taught us the techniques such as power focal points, directions, target points from the perspective of agronomics and everyday applications.

Around the same time, the Sensei found out that many of the senior students were involved with work that required Japanese, so he made time to teach us Japanese.
For a brief time period, I was able to learn one on one with the Sensei. There were so many students so I remember practicing in the hallway outside the pool in the building.
After that, a few times I accompanied the Sensei to participate in international martial arts tournaments, and to Japan to perform demonstration White Crane Fist.
At some point, my worked forced me to change my training schedule from night time to 6:30 in the morning, before going to the office at 8:00.

Over thirty years ago, I become independent and started up a company. Sensei constantly encouraged me to improve my Japanese skills as I was a head of a company. He urged me to practice Japanese using the notes he made, on words, phrases and verb conjugations. He always helped me correct my Japanese and improve my writing. Not only that, he taught me more in detail including Japanese grammar, tone, culture, etiquette and customs.

Aside from Japanese, he taught me how to groom myself and proper manners. He would say "your hair is getting long; go to the barber you always go to and get it cut." "Hair is sticking out of your nose; you've left it too long? That is not polite to people." "Looks like your back is curling lately; your breathing is also not very steady. Practice Qigong breathing method more."
All of my friends I introduced Sensei to, were happy.

At the end of 2008, in order to prepare for the demonstration in Japan, he told me to come for training at 6:30 every Sunday morning, to practice the White Crane Fist. He was already close to 90 years old at the time but he was never late to class and very punctual with his training time.

I would like to make a special recommendation here. For the selection of students to participate in this comprehensive practice of White Crane Fist and Karatedo, we should carefully screen the applicants focused not only on their technical skills but also their character and attainment of Butoku(martial arts and spiritual practice). The point is not allowing students to join the class so easily.
For the past 40 years, I have been advocating doing good to everyone, such as helping and supporting the weak. Everyone likewise respected the teacher's teachings and silently supported the "weak people" in various places.

Most of the martial arts organizations allowed me also to participate in the activities that my Sensei participated. And I refined, learned, and studied human relations through these experiences.
Recalling these 40 years, the Sensei was a strict teacher, and when he was teaching me life etiquette, he treated me as a benevolent father. He was my Master and I his pupil, but the feeling was like of a father and son.
Now the Sensei is separated from everyone.
I have written this far, and my heart is too full to continue. I can only let the tears run down.
Sensei Chen Hunt-tsung's name will be forever engraved deep in my heart.

2020.9.24林茂椿敬書
---
陳宏宗主席師範の紹介記事はこちらになります。
陳宏宗主席師範の紹介
2020年の浅井盃国際武術空手道大会は、2021年の8月に延期致しました
Due to the impact of the novel coronavirus, the Asai Cup International Martial Arts Karate Tournament, originally scheduled to be held in August 2020, has been postponed to August 2021.

中国から浅井哲彦宗師の弟子達より、新年の御挨拶及び約50支部ある中の一部指導員達の写真が送られて来ました。
尊敬的IJKA理事長淺井惠子師母:

  您好!
值此中國的傳統新春佳節,我們在大陸的弟子們遙祝您在未來的一年裏身體健康,萬事如意。同時也祝願IJKA能在淺井師範的光輝照耀下,發展的更好.

  李淵深並代表全體IJKA-CHINA成员
 2020.1.25 庚子年初一


譯:
尊敬するIJKA理事長 浅井恵子師母様
お元気でしょうか?
此の中国伝統の新春祝日に、私達中国大陸の弟子達は遥かに貴女が未来の1年中、身体健康、万事順調である事を祝し、同時にIJKAが浅井師範の照り輝く光の下に、更なる発展をとげる事を祝します。

李淵深
及びIJKA CHINAの全員を代表して。
 2020.1.25 子年1日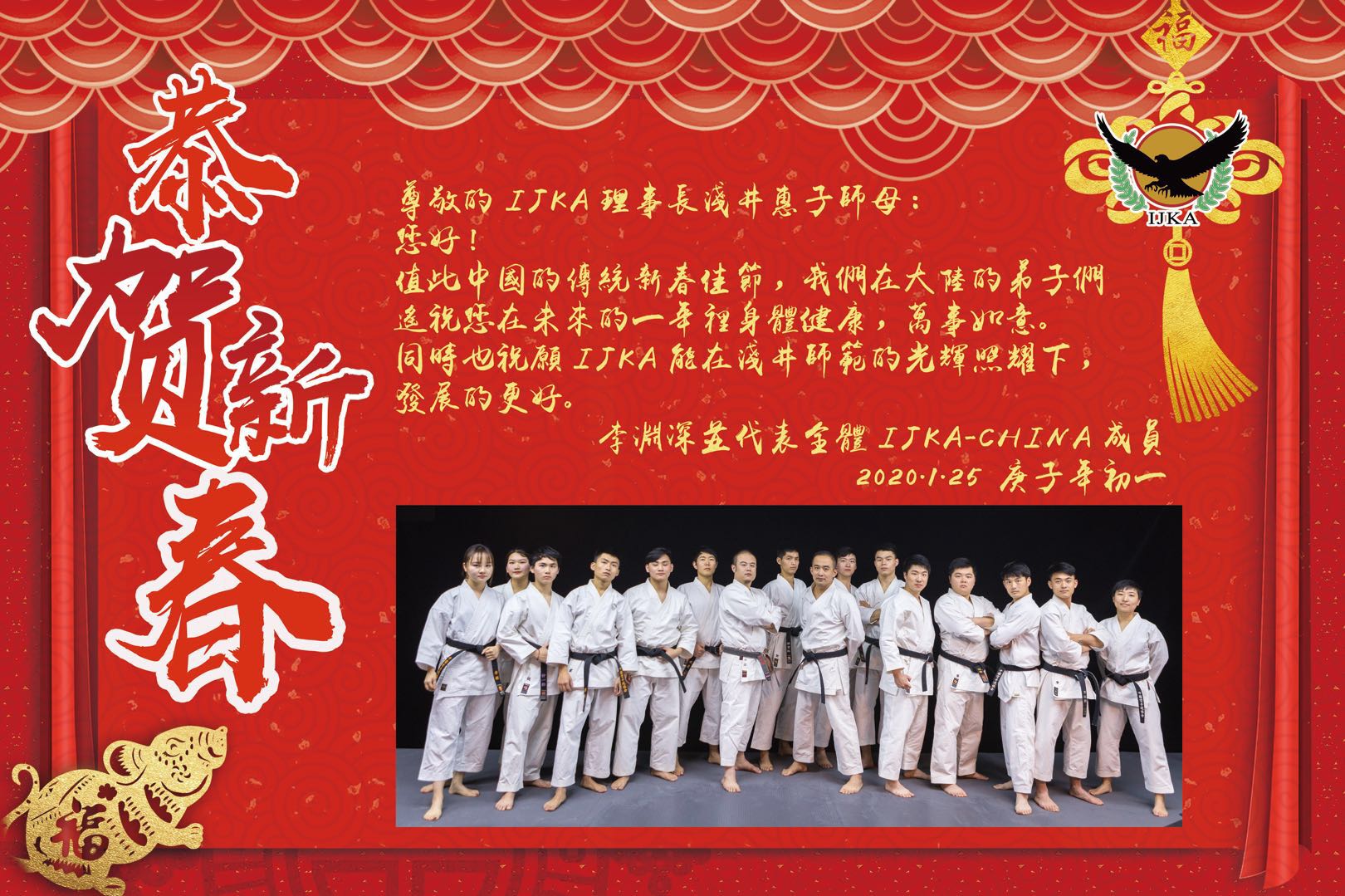 IJKA CHINA 一部指導員達の写真
New Year's Greeting with Photos from Master Asai's Student at One of 50 Branches in China
尊敬的IJKA理事長淺井惠子師母:

  您好!
值此中國的傳統新春佳節,我們在大陸的弟子們遙祝您在未來的一年裏身體健康,萬事如意。同時也祝願IJKA能在淺井師範的光輝照耀下,發展的更好.

  李淵深並代表全體IJKA-CHINA成员
 2020.1.25 庚子年初一


To Respected President of IJKA, Keiko Asai,

How are you? On this Chinese New Year holiday, your disciples on the mainland China would like to celebrate your good health and wellness, and congratulate the continuing success of IJKA blessed with the shining light of Master Asai.

李淵深
On behalf of all of IJKA CHINA.
2020.1.25 Year of Rat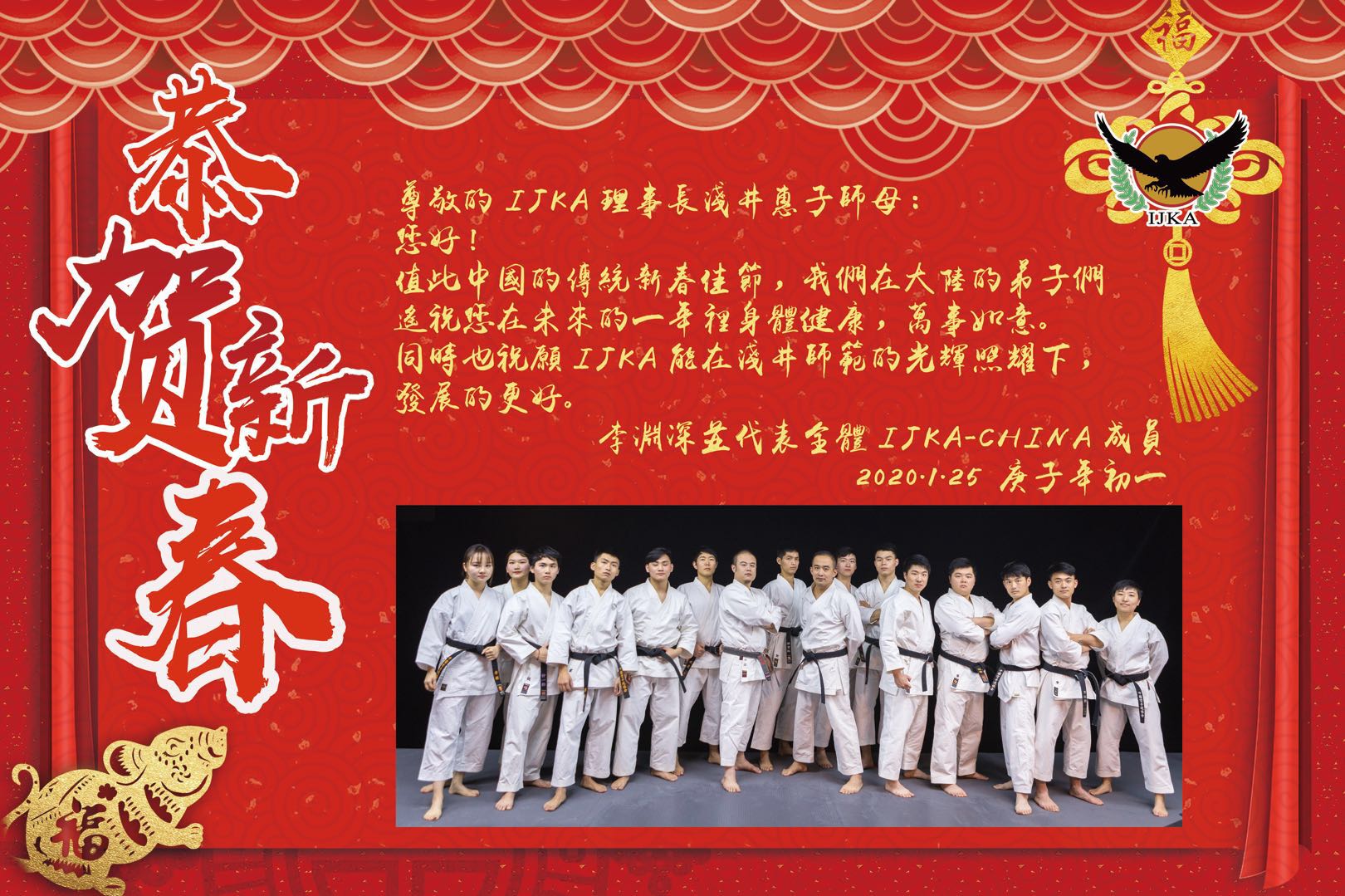 IJKA CHINA 一部指導員達の写真
Swiss Members Will Visit Taiwan for Training
From November 10th to the 21st, five members from Switzerland will visit Main Dojo Tetsuhiko Kan in Taiwan for training.
At dojo, training is given by the direct students of Master Asai and IJKA global instructors Toshiyuki Kidokoro, Wang Ju-yu, Chou

Chih-wen, Mars Jee as well as holders of high dan ranking.
Participants of the training receive kind and thorough instructions, and it is always carried out in good atmosphere.
The Swiss members are planning on making the visit a regular event.
German Members Will Visit Taiwan for Training
From October 27th to November 5th, Mr. M from Germany is visiting Main Dojo Tetsuhiko Kan in Taiwan for training.
He attended the karate seminar in Germany last year, and passed the dan examination for 3 dan. However, some of his movements caught

Chen Hsin-koei Head of Technical Office's eye and so he told Mr.M to come to Taiwan, offering help to correct them.
After the movements are corrected, Mr. M will sure to feel more proud to tie that black belt. The IJKA dan ranks are given strictly and fairly.
Comment from Thierry Orlowski on 2 months of training at the Hombu Dojo
I arrived from Toronto to Taiwan at the beginning of July 2019. During the first day of training at the Hombu Dojo, I was right away impressed by the technical knowledge of Sensei and the seriousness of the students. Fortunately, Keibou Chen Sensei and the other members of the Dojo really made me feel welcome and I quickly adapt to the rhythm of the training.
After 18 years of training Shotokan Karate, I never improved as much and as quickly than during that training. Keibou Chen Sensei is very kind and patient, and the whole group really put up with me. At the end of these two months, my stances were better, my movements were sharper and faster.
I traveled a lot before to learn Karate. But after all my travel, I never met a group as dedicated to the practice and learn Karate with integrity than the IJKA Hombu Dojo in Taipei. It really is the birthplace of Asai Sensei's Karate and training at this Dojo really was a blessing.
I came back to Toronto at the end of August with a real feeling of fulfillment. I met amazing people, I have many new friends but more importantly, my Karate never been as good and my body as healthy as it is today. I can't think of a better place to train Karate in the world, and I have the firm intention to come back for more training soon.

Hope you will find this interesting.
Say Hi for me to the whole family.
Thierry


A Seminar Held in Shanghai – Quick Change of Plans for Event at Tetsuhikokan in Taiwan Due to Overcapacity
A group of trainees from mainland China initially planned to travel to Tetsuhiko kan in Taiwan to attend a seminar, but the plan was altered due to the number of attendees reaching 50 and surpassing the capacity of the building. Instead, two international instructors - the Head of Technical Office, Chen Hsin-koei, and Wang Ju-yu – traveled to Shanghai to give the seminar. A total of 4 class were held on August 24th and 25th at Shanghai Zhaofeng Jiayuan Clubhouse. All the instructors from each dojo listed below participated, including two school districts of East China Normal University, two Shanghai University precincts, and Shanghai Hosei Gakuin. IJKA dojo in China: IJKA Shanghai (including Shanghai, Songjiang and Jiading), Taicang, Zhao, Zhejiang, Southeast, Southwest, Northwest, Hebei, Shenzhen, Beijing, Shijiazhuang, Hubei, Guizhou, Fujian Among them, Beijing is expanding more, and Zhejiang, Jiaxing, and Chengdu succeeded in incorporating I.J.K.A. Karate into the formal curriculum of some schools. Furthermore, in Chengdu, the group is promoting I.J.K.A. Karate through partnership with a large group of educational institutions. On the afternoon of the 24th, there were classes for grade-holders and long-term trainers.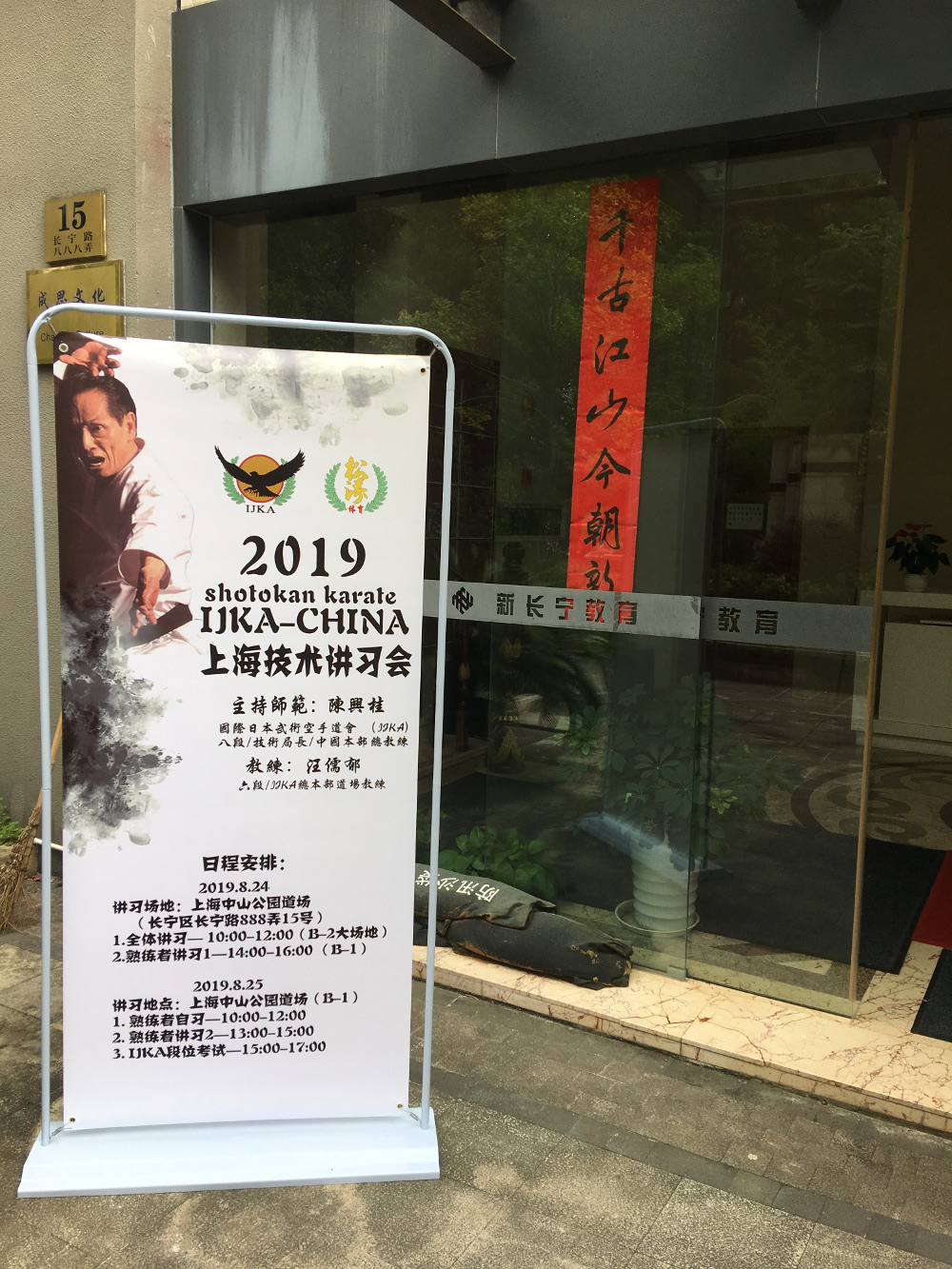 Seminar Venue 上海兆豊嘉園会所
| | |
| --- | --- |
| | |
| | |
| | |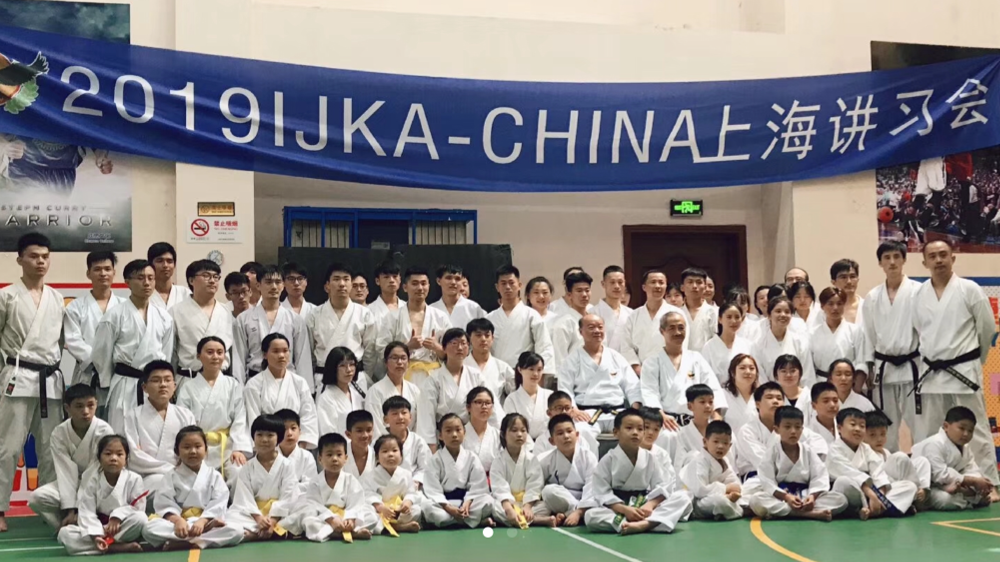 Group photo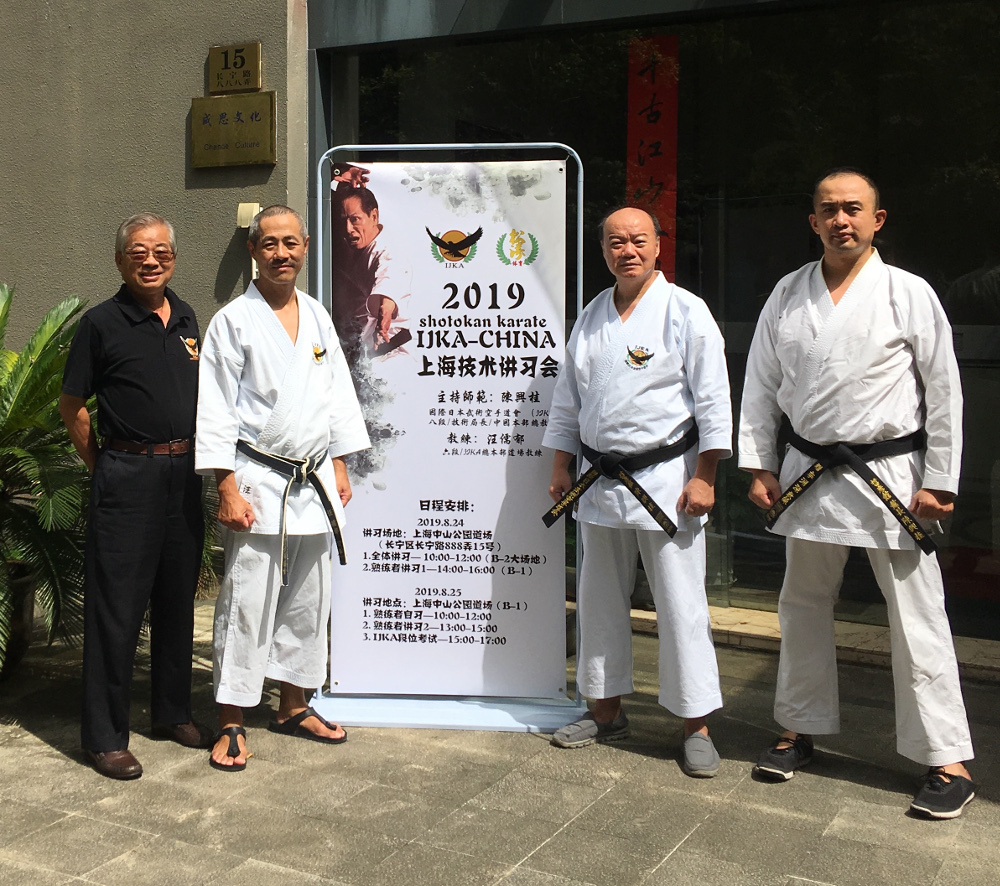 (From left) Tetsuhiko Kan Global Section Chief Lin mow tsun, International instructor Wang Ju-yu, Director of Shanghai Head Office Li Yuan-shen, and the IJKA Head of Technical Office Chen Hsin-koei.
After Canadian Trainee in July and August, 5 Swiss Joins Training from September 2019
Five members from Switzerland will come to Taiwan in September for a karate training at the Technical Office Sohonbu Tetsuhiko Kan, after having Mr. Thierry Orlowski from Canada in July to the end of August.

2020 IJKA Asai Cup International Karate-Do Championship Tournament
Dear all,
We are happy to announce that the 2020 IJKA Asai Cup International Karate-Do Championship Tournament will be held on August 15th(Sat), and the Technical Seminar & Dan Examination on August 16th(Sun), 2020.
More details to follow.


Kindly be informed that August 15th, 2020 is the 14th anniversary of Asai Shouseki Shihan's passing.


The Annual IJKA Asai Karate Seminar 2019 in Germany Ended with Success
International Training Workshop Commences at Taiwan Sohonbu Dojo
Following IJKA's individual member Ms. Onishi, another member came to Taiwan in May for a training from Switzerland.
We have also received a membership application from Canada, who is planning to stay in Taiwan for 2 weeks for the training. Currently the individual is looking for economical accommodation for the duration of the stay, with the help from Mr. Frank Lin, the head of the international division at the IJKA Taiwan HQ.
Going forward, if we decide to host an international training workshop we will announce it on our website. Anyone or any group who is not affiliated with other karate organizations are welcome to apply for our membership. The instructors at these workshops are the direct students of Master Asai of 30 to 50 years. The new karate developed by Master Asai has been passed on to them.


Comment from Akiko Onishi on the training
It was my first time to meet them all, but everyone welcomed me warmly. They are all nice and kind, and I felt very blessed. I was moved by the fact that there was no-one who was flaunting their strength or being ostentatious about their status.
The workshop with Chen sensei was a bluster of shock and inspiration. I became convinced that I could learn the techniques of true karate.
When I returned to Japan, I immediately taught my older sister what I learned, and now she says she wants to train under Chen sensei. She is hoping to do some intense training from morning to evening for a few days next year.


Mr. Akira Hirai, who was the first student of the late Master Asai's wheelchair karate, passed away on March 31st this year.
On July 7th, 8th, and 9th in year 2000, we organized a US-Japan social charity event for people with disabilities, at Yokohama Rapport Theater. For the event, we invited Ms. Zina Bethune and her four members from the US. From Japan, we selected people with disabilities with amazing talents such as singing, from all across Japan.
The main event at the show was the wheelchair dance by Ms. Zina Bethune and Ms. Lindsay, and the wheelchair karate performed by Akira Hirai san and a few selected members from Japan, who were supervised by the late Master Asai.
Tetsuhiko Asai Sensei agreed without hesitation to teach them, upon their request, to learn "practical wheelchair karate not just for the show."
Master Asai used to commute on train from his office in Shinbashi to Mr. Hirai's office in Yokohama to teach them karate free of charge.
Then came August 4th 2002. Mr. Hirai and his team participated in the national wheelchair karatedo championship tournament and won the championship in the team mixed form competition.
Mr. Hirai deeply grieved the passing of Master Asai. He drove at the funeral, and when we arrived at the cemetery he rushed in his wheelchair to the grave side and offered a sorrowful prayer.
Mr. Hirai was truly Master Asai's number one and beloved student.
There are so many fond memories of him. May his soul rest in peace.

Mr. Akira Hirai's Profile

1967: Injures spine from a falling accident and becomes wheelchair- bound. Learns archery during rehabilitation.
1977: Joins the establishment of the Association of Yokohama City Wheelchair. Joins Yokohama Wheelchair Basketball Club

Main positions
• President of Association of Yokohama City Wheelchair
• President of Yokohama Shinren (Public interest incorporated association of people with disabilities in Yokohama.)
• President of Asuta PC ( Yokohama-based NPO workshop where people with disabilities work using PCs)
• President of BASEL (Committee of parasport instructors of Yokohama)

Other accomplishments
• Awarded by the Ministry of Health, Labor and Welfare
• Won the championship in the team mixed form competition at the national wheelchair karatedo championship tournament on August 4th, 2002

Many Applications for IJKA Membership Received from India
We are receiving multiple applications from India for the IJKA membership.
Currently, the organization ran by Mr. SRINIVASAN is the only IJKA certified branch in India.
2018 Asai Cup IJKA International Martial Arts Karatedo Friendship Tournament Ends in Great Success
"2018 IJKA Asai Cup IJKA International Martial Arts Karatedo Friendship Tournament " closed with a great success on August 25 in Shanghai, China.

International Japan martial arts Karatedokai IJKA was originally founded in Shanghai in 2004, with the support of the CEO of the WantWant group Mr. Tsai Eng-meng. Many of Master Tetsuhiko Asai's disciples and newly-joined karate-ka from all over participated in the event in this memorable location.

Participants came from different many districts of China, see below, the furthest location being 4000 km away:

· International Japan martial arts Karatedokai, China Head Quarters

· International Japan martial arts Karatedokai, Shanghai Branch

· International Japan martial arts Karatedokai, Zhejiang Branch

· Huangpu District Haiyan Expo Public Interest Development Center - Haiki Expo Martial Arts Club

· Shoto Physical Education (松濤體育) - 嘉定KAN

· Shoto Physical Education (松濤體育) - 松江佘山KAN

· Shoto Physical Education (松濤體育) - 長寧中山KAN

· Shoto Pysical Educatin (松濤體育) - 浦江KAN

· Shoto Physical Education (松濤體育) - 金山KAN

· Shoto Physical Education (松濤體育) – University Student Club

· Guizhou Shotokan - 貴州松濤KAN

· Fujian Shoto Physical Education - 福建松濤體育

· Chengdu Boys Superman Karatedo Club - 成都少年超人空手道KAN

· Jiaxing M3 Family Club - 嘉興M3體育倶楽部

· Taicura Shotokan - 太倉松濤KAN

· Beijing Phoenix Budokan -北京鳳凰武道KAN

· Hebei University of Medicine

· Ningiko Kikodokan - 寧波木子道KAN

· Sweet Breeze Kodokan -甘肅向毅道KAN

· Shenzhen Hachijo Martial Arts - 深圳八正武道


Despite the distance, (4000 km, 2000 km, 800 km, 1960 km, 100 km, 800 km,
1000 km, 300 km, 2000 km, and 1500 km) participants came with high spirits.

Participants came also from Taiwan, Europe, Japan and Germany. The tournament was a great success.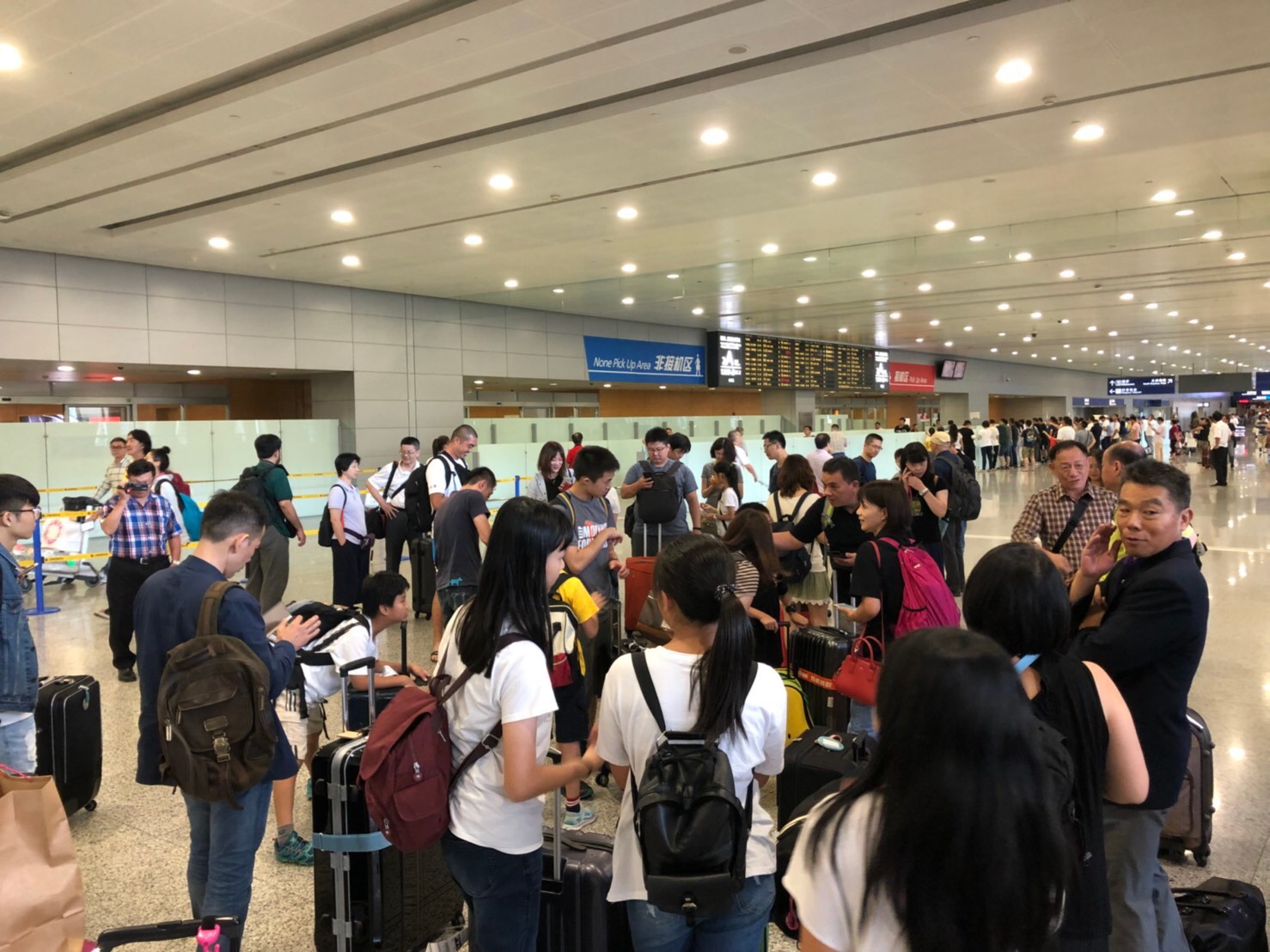 Departing Taiwan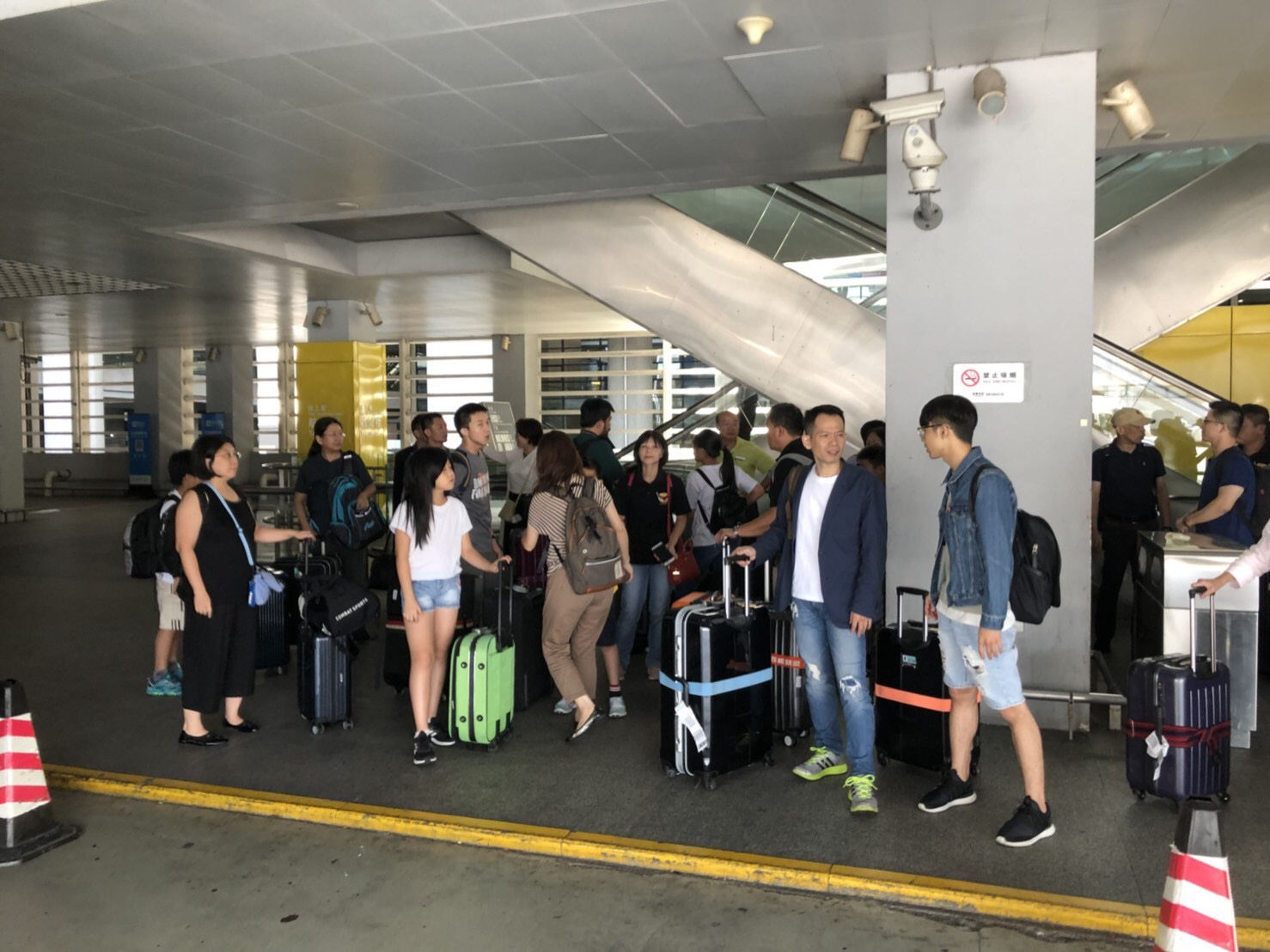 Arriving in Shanghai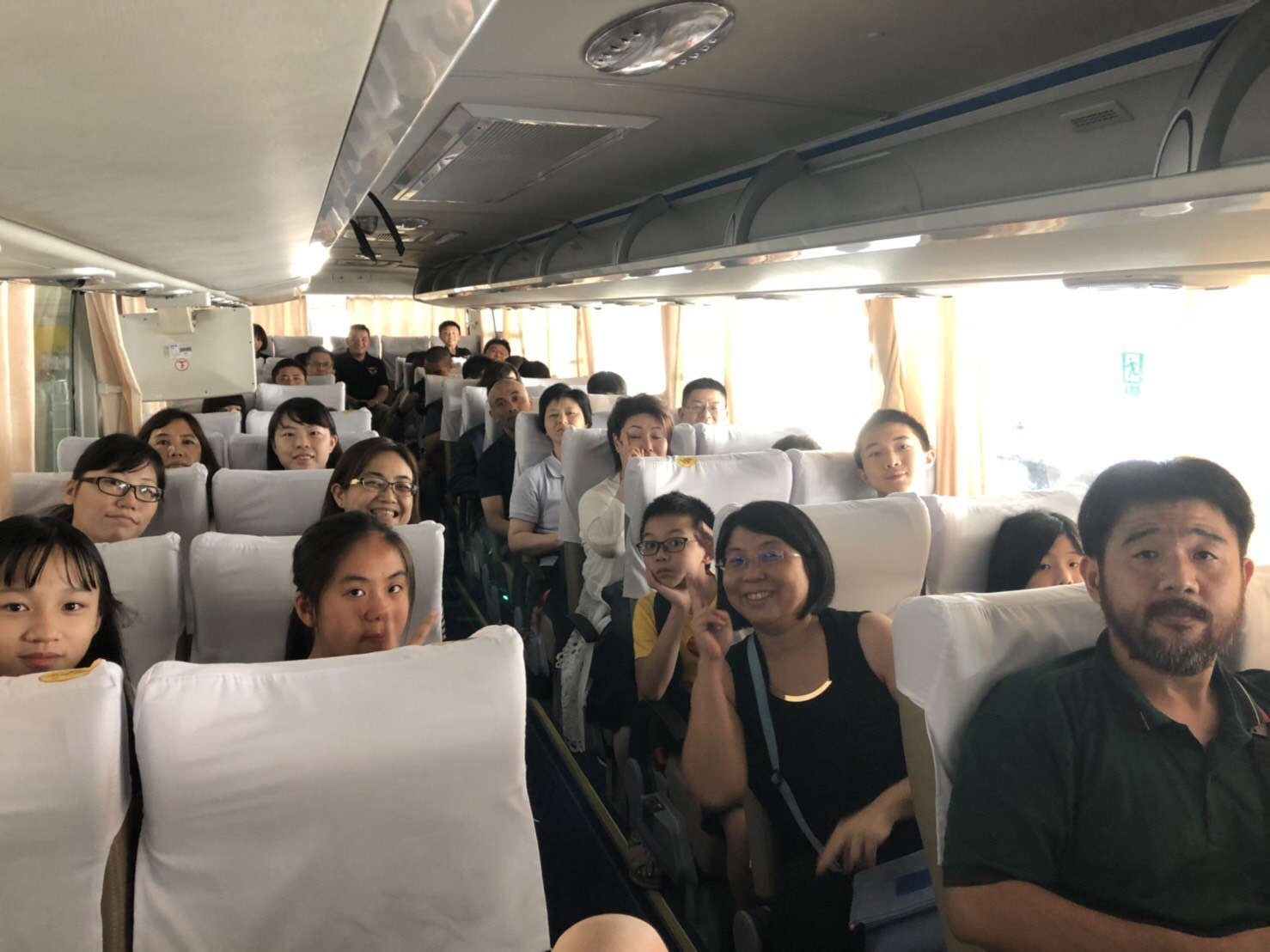 En route to the venue



Welcome Party at San Want Hotel Shanghai





Celebrating president Keiko Asai's birthday
at Welcome Party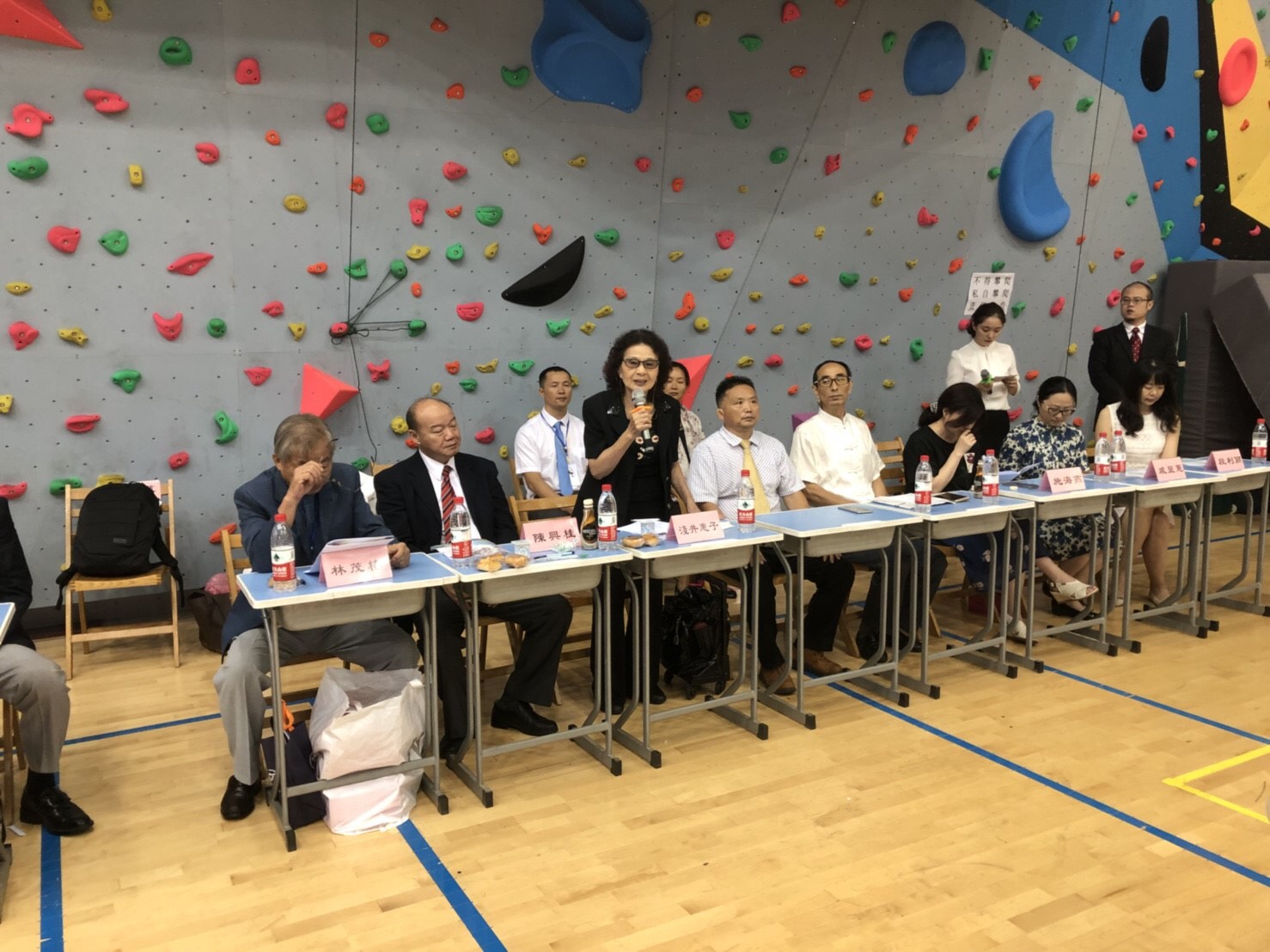 President Keiko Asai giving the opening congratulatory speech
2018 IJKA Asai Cup IJKA International Martial Arts Karatedo Friendship Tournament Shanghai
| | |
| --- | --- |
| Technical seminar | Technical seminar |
Dan certification exam

IJKA conducts traditional dan certification exams.
All judges are direct students of Master Asai for more than 30 years.
International instructors who are the judges of the dan exam (from the left):
Mr. Otto(Germany), Mr. Zhou Zhi wen, Mr. Toshiyuki Kidokoro,
Mr. Chen Hsin-koei, Mr. Wang ruyu, Mr. Ji, Bang-Yen.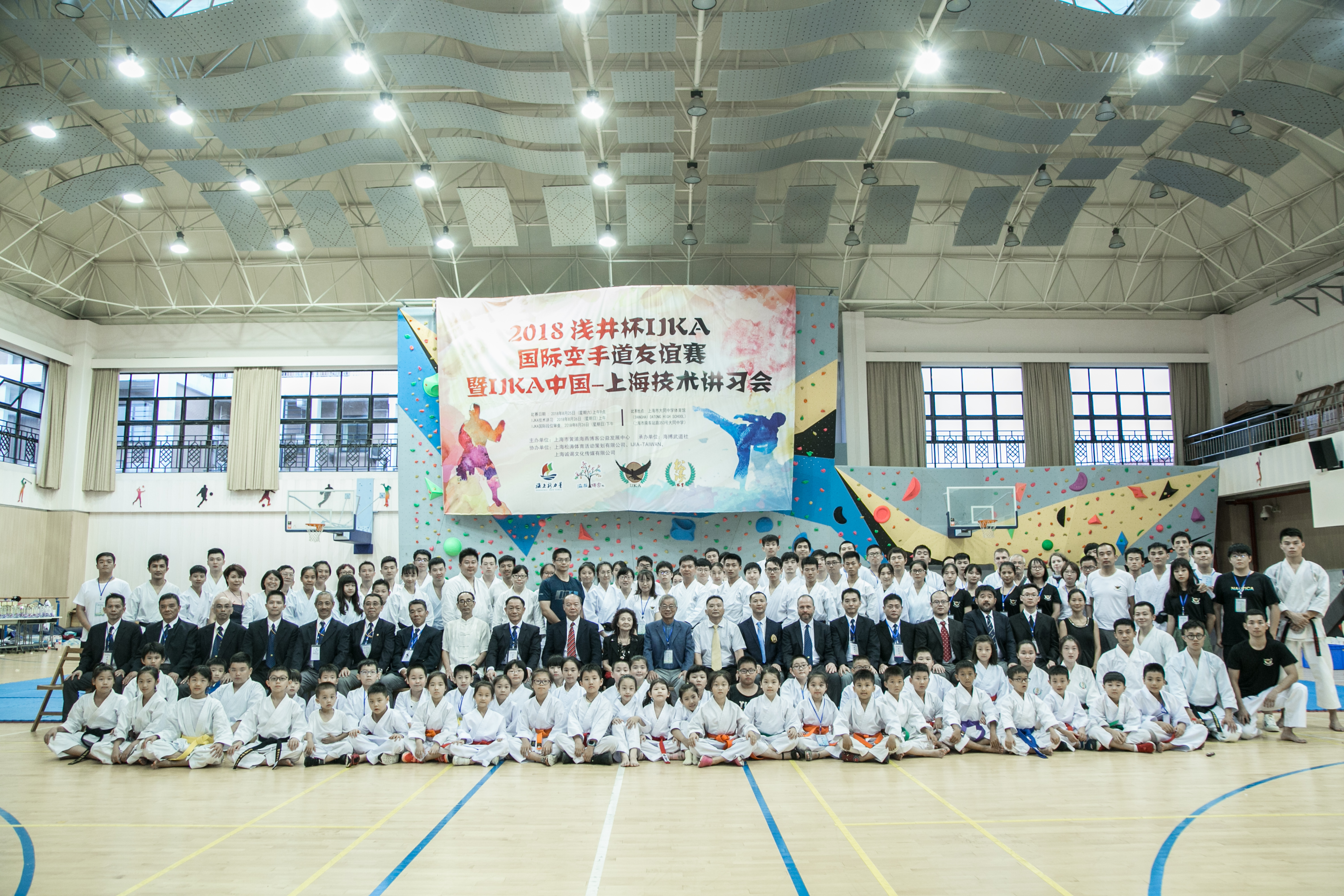 Group photo (of some of the participants)


As the tournament was held on the Sunday the 25th,
over one third of the participants left immediately after the event to catch a flight,
or to start the long journey back home for work on Monday, before this group photo was taken.

The number of applicants and enquires from across China continue to grow.

SOKE International Japan martial arts Karatedokai is Proud of Mr. Bruno Koller
SOKE International Japan martial arts Karatedokai is Proud of Mr. Bruno Koller.

He had a very close relationship with the late Master Asai, and had been hosting the Asai Camp in Switzerland since when Master Asai was still with us.

As soon as the news about Master Asai's passing reached Mr. Koller, he immediately set up an alter in his dojo and gave prayers with everyone there.
After the master's passing, Mr. Koller's Asai Camp become the Asai Memorial Camp.

All the way from Switzerland, he came to participate in the technical seminars held in Taiwan, and devoted himself to training. He also attended every tournament between 2010 and 2016. Even after he fell ill in 2009, he continued to participate in the tournaments, with an accompaniment of a nurse.

Normally, people in his condition would not take part in tournaments.
Mr. Koller, however, showed the spirit of Bushido all the way to the end.
We, SOKE IJKA, is proud of Mr. Bruno Koller, and truly respect him from the bottom of our hearts.



at Mr.Bruno's DOJO




at Mr.Bruno's DOJO




2010 Following the event, he attended the international instructor meeting.




2010 Examination finally ended after 6 hours.
At the Sohonbu Tetsukiho Kan dojo.




2011 Following the event, he attended the international meeting.




2014 Following the event, he attended the international meeting.




2016 He attended the Asai Cup International Karatedo Championship, Even after he fell ill in 2009.
Sitting down towards the Center is Mr. Bruno Koller , with his nurse Theo to his left.)

All the way from Switzerland, he came to participate in the technical seminars held in Taiwan,
and devoted himself to training.
Buddhist Memorial Service Held for the 13th Anniversary of Master Asai's Passing on May 12th at Tokyo Reien Cemetery, Mr. Koller's Funeral Held the Same Day in Switzerland
Buddhist memorial service was held at Tokyo Reien cemetery on May 12th in advance of the 13th anniversary of Master Asai's passing on August 15th. As with the 7th anniversary, the chief priest from the Hyaku Kannon Meiji Temple in Numabukuro, Tokyo lead the service. The service proceeded smoothly.
Many people, including those from the Theatre Academy and the karate organization JKS, both founded by the late Master Asai, kindly came and attended the service despite the hot weather.
I would like to extend my sincere gratitude for those who came.
After the memorial service, I came home to receive the news that Bruno-san's funeral was held on the same day. What a happy coincidence, or fate, it was. I have no doubt that Master Asai came down to meet him, and the two men went to heaven together enjoying each other's company.
Thank you, you two, for all the hard work you have done for karate.
Please find a moment of rest in heaven.
Thank you for those of you who came to the 13th memorial service.
I wish you good health and happiness.
| | |
| --- | --- |
| | |
| | |
2018 ASAI CUP IJKA INTERNATIONAL KARATEDO FRIENDSHIP TOURAMENT
2018 ASAI CUP IJKA INTERNATIONAL KARATEDO FRIENDSHIP TOURAMENT as August 25th and 26th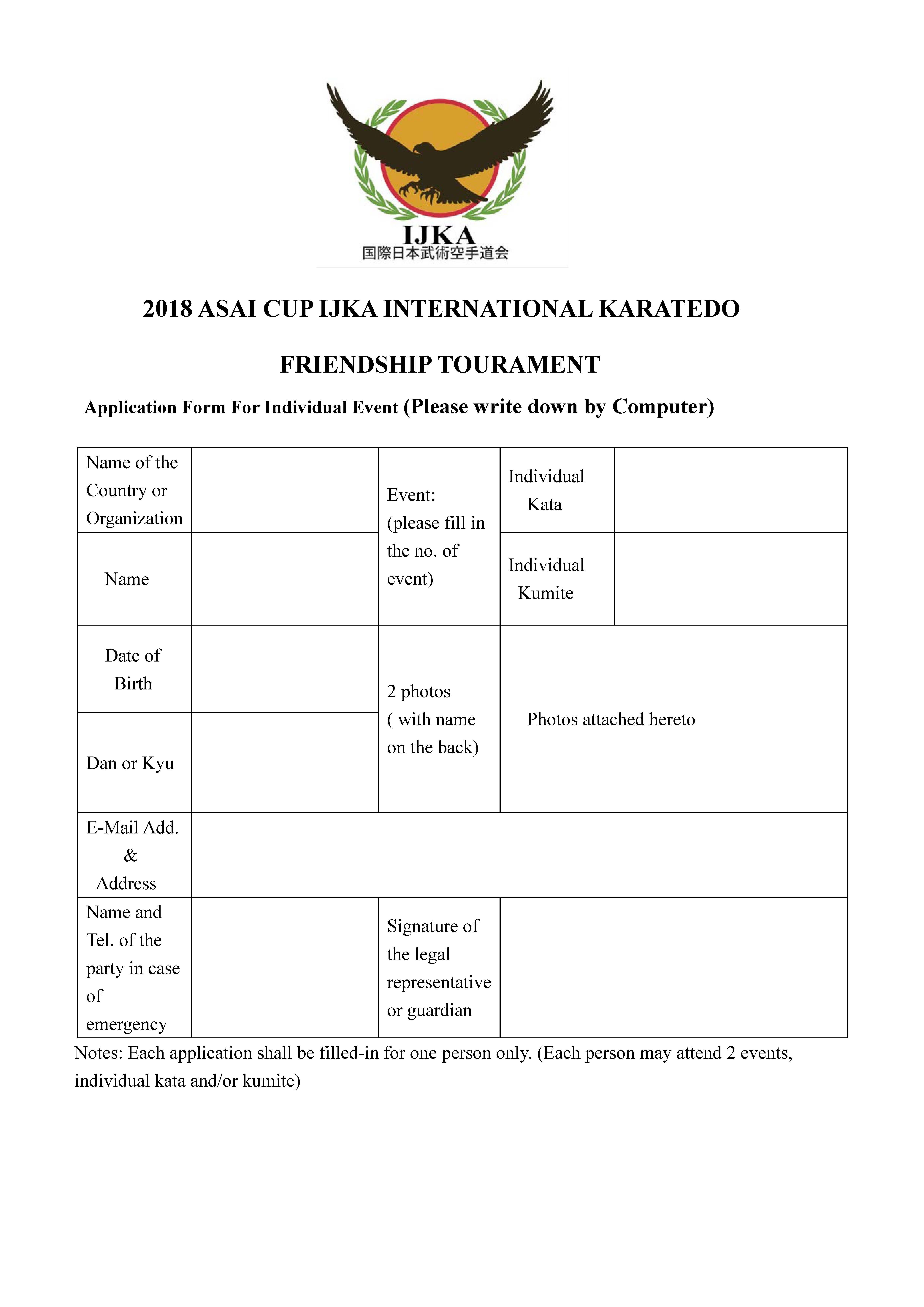 ApplicationFormforIndividualEvent.docx[→download]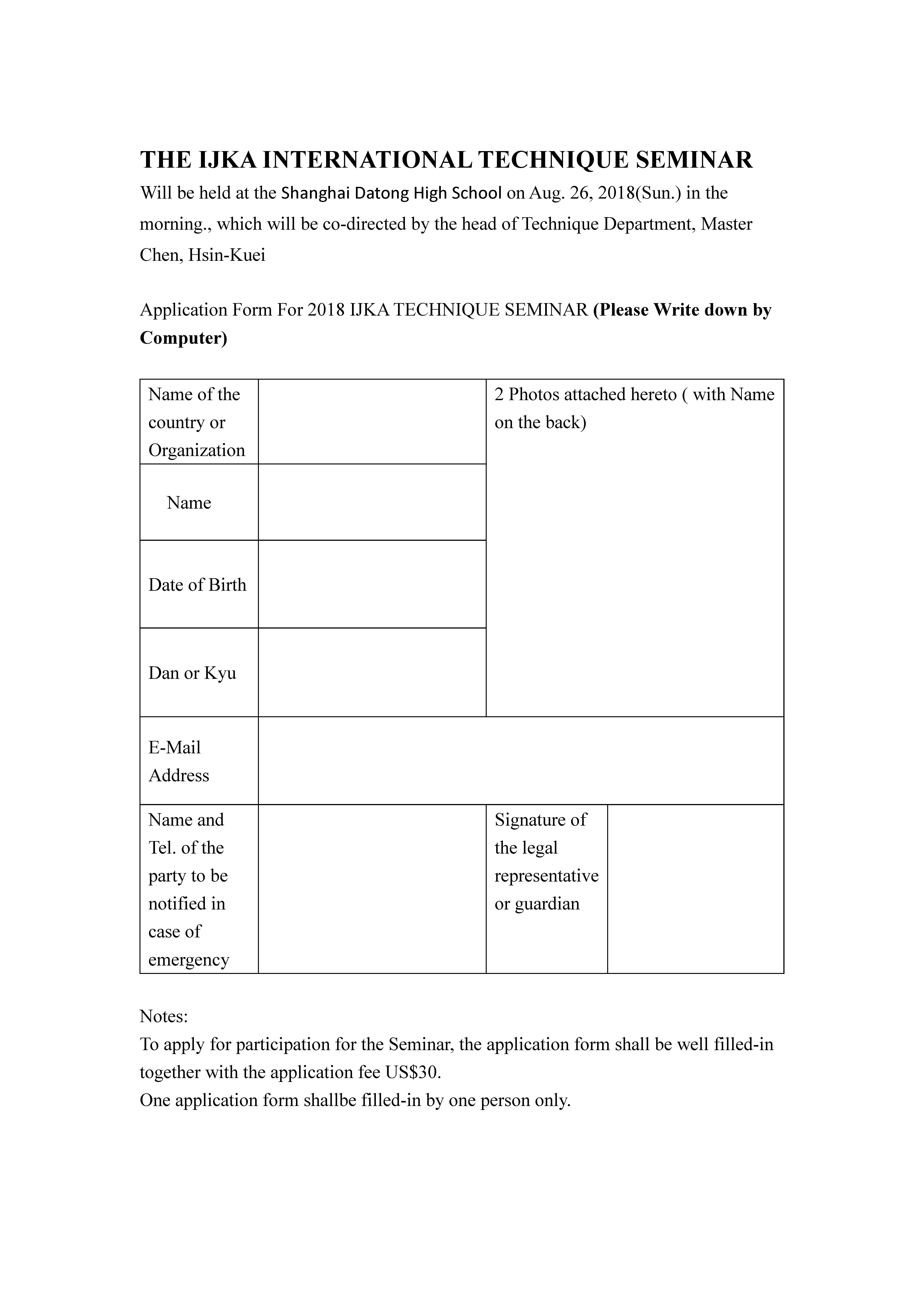 2018_IJKA_Techinique_Seminar[→download]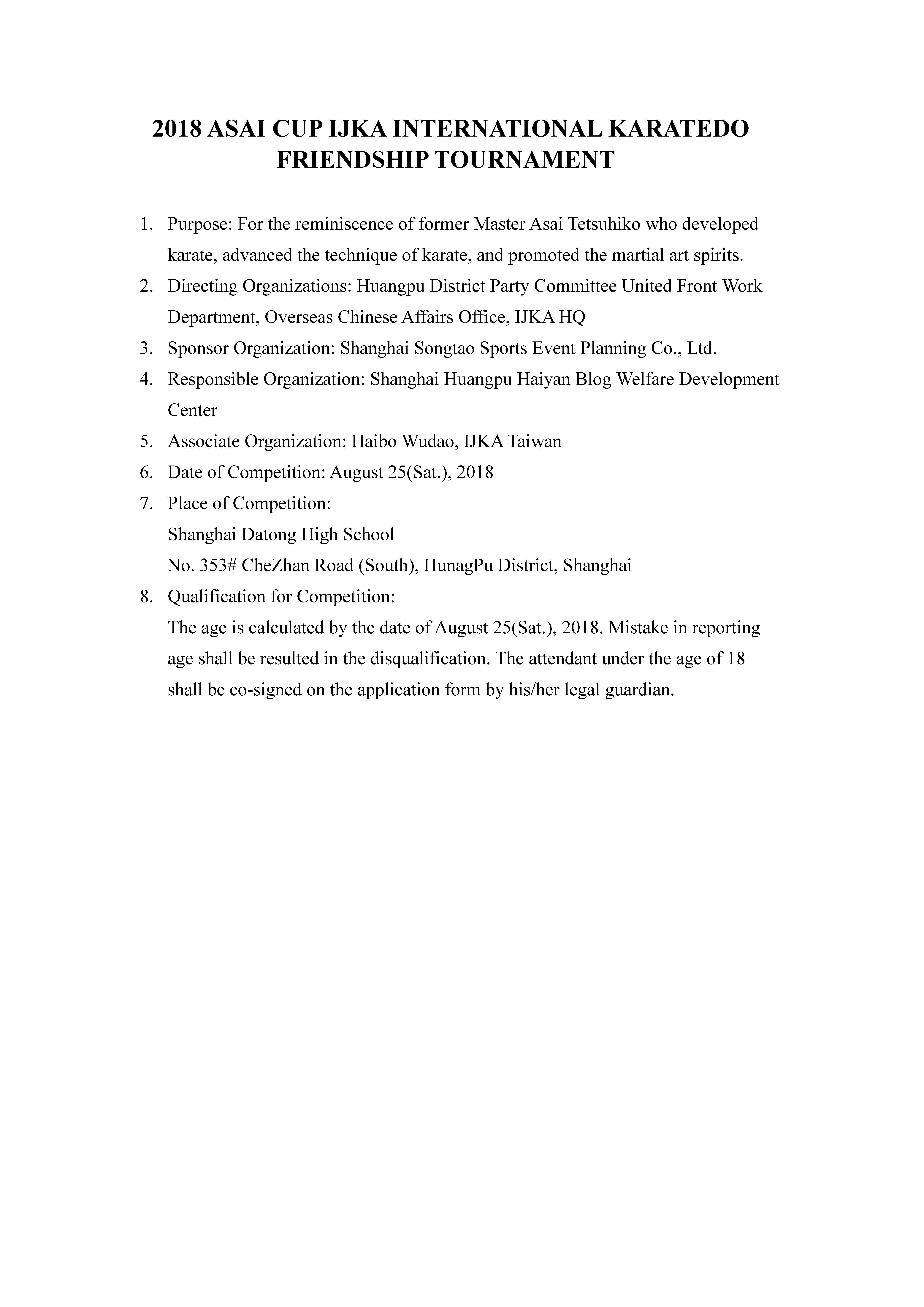 2018競賽規程[→download]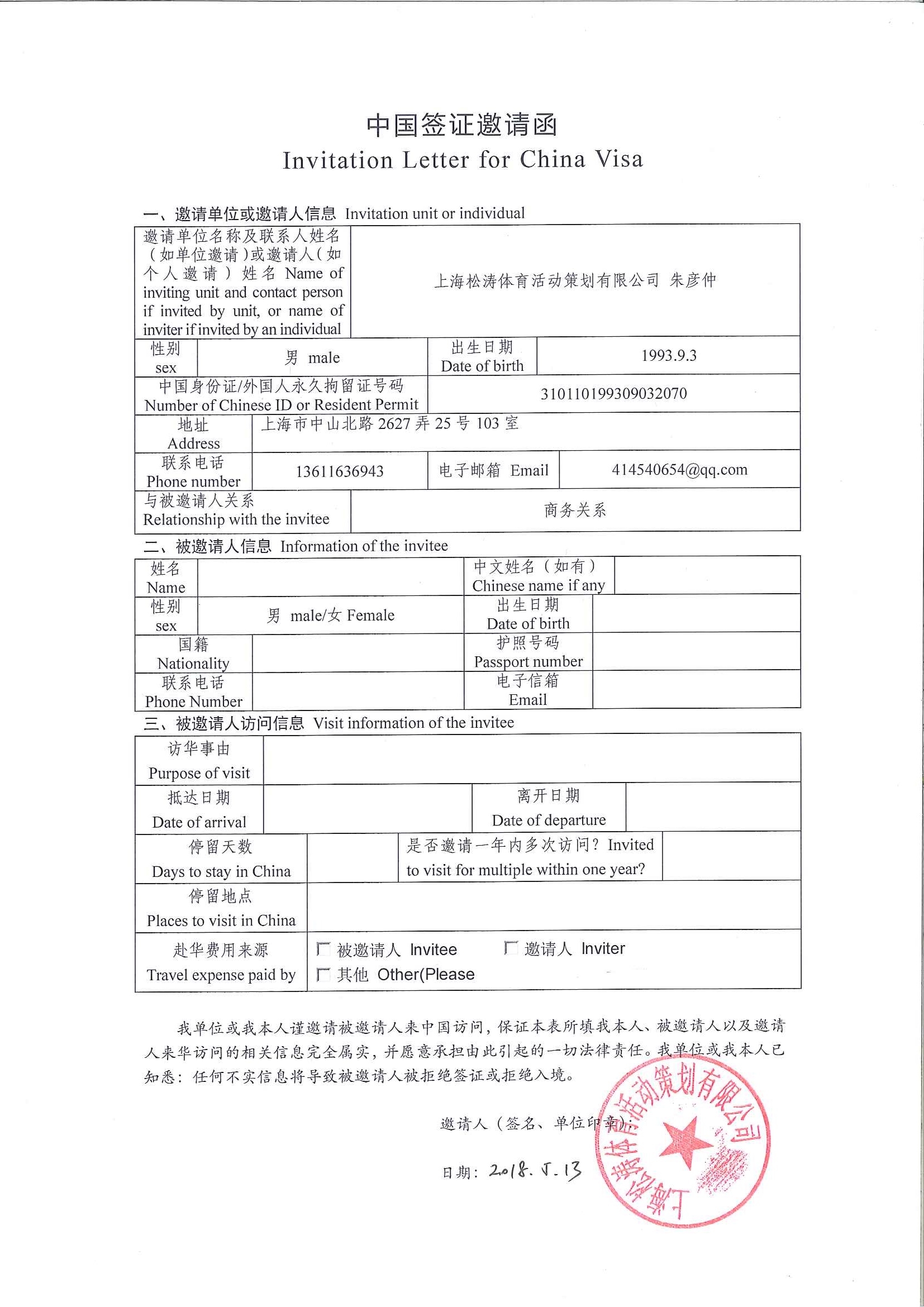 Sample_form_of_Invitation_letter_for_China_Visa[→download]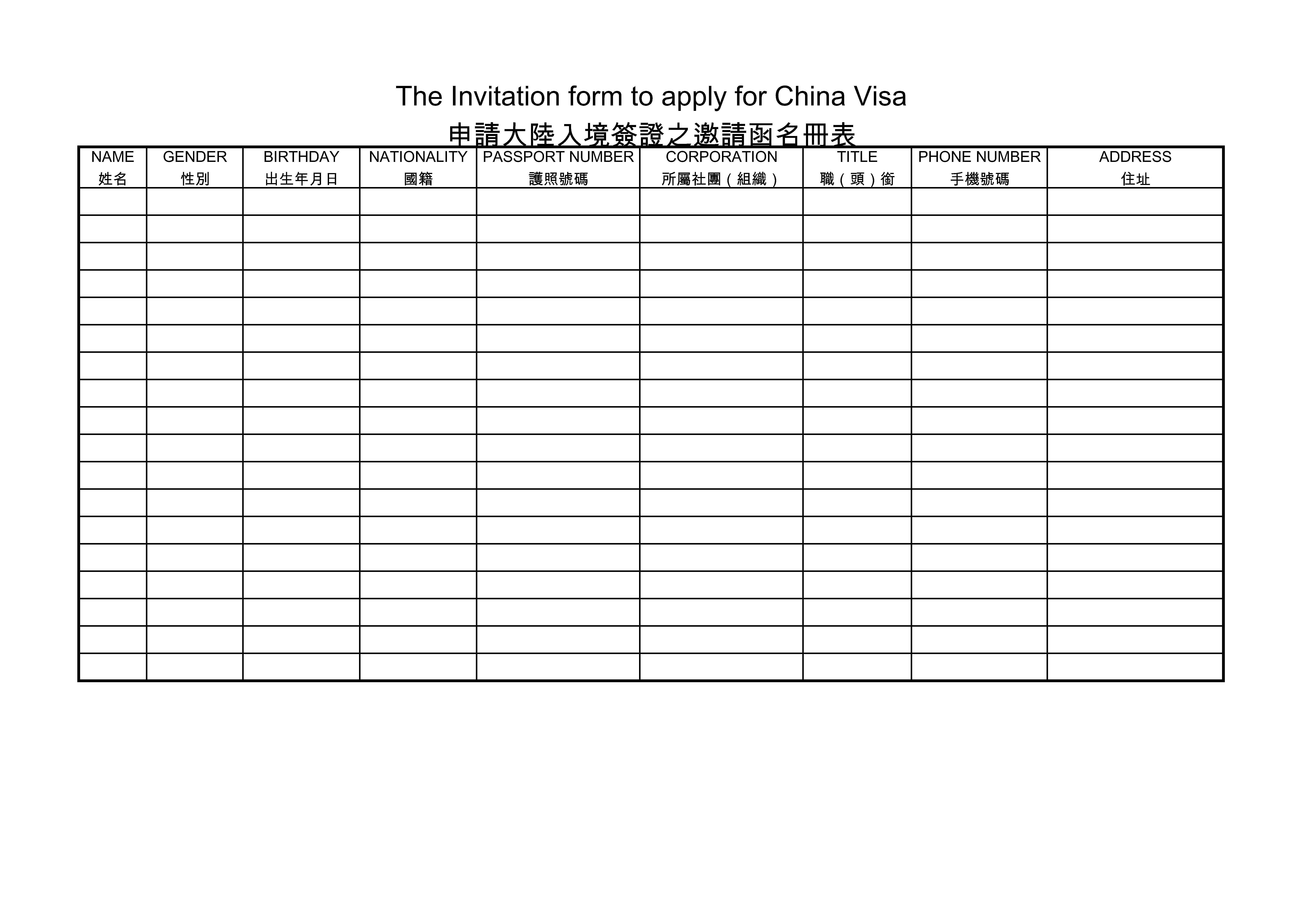 The_Invitation_form_to_apply_for_China_Visa[→download]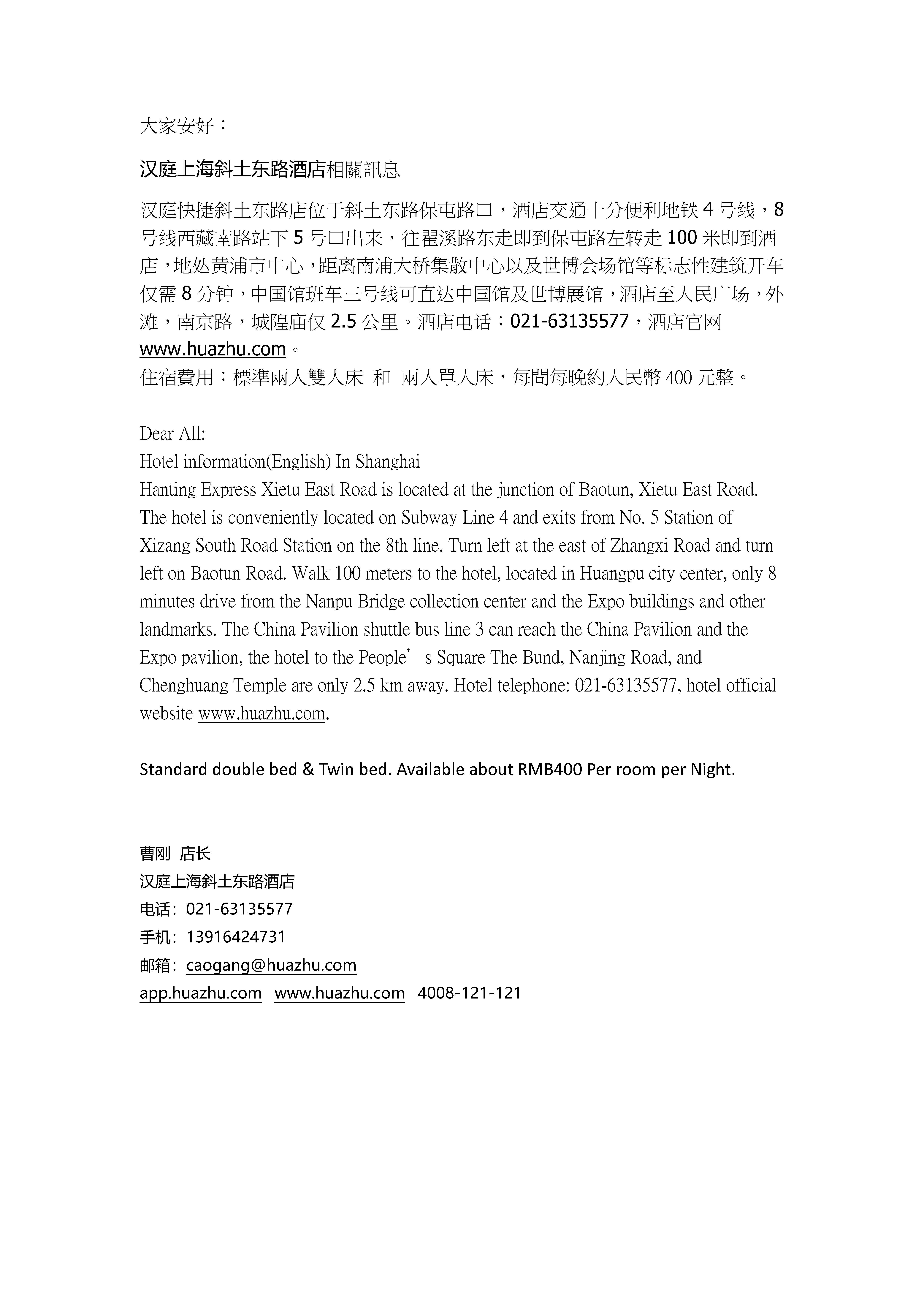 HOTEL_Information___Hanting_Express_Xietu_East_Road[→download]
Head of IJKA Europe Bruno Koller Passes Away
Bruno sensei, who shared a very strong master-student relationship with Master Asai for over 30 years, passed away on April 30th.
---
Bruno Koller

born in 1949 in Appenzell.
1975 moved to Japan with his wife and son Giosuel to get to know Karate.
test in Budokan fight against everybody and won every single encounter.
participate in the instructor training in Tokyo. Behind closed doors.
challenges along with the instructors of Japan (Asai Sensei, Nakayama Sensei). experienced the reality of Bushido.
Karate World Championship in Egypt. and Karate World Championship in South Africa November 1993 3rd place Kata, 5th place team Kata.
Sendai Cup in North Japan 1st place Kumite, 1st place Kata.
1st Asai Cup in Russia 1st place Kumite, 3rd place Kata.
IJKA European Championship in Burmingham 1st place Kumite, 1st place Kata.
On May 6th, IJKA General Headquarters issued Bruno sensei a 9 Dan certificate.

May he rest in peace.
---
May 2, 2018
Dear Selina,

We were so shocked to learn of Bruno Sensei's Suddenly passed away.

Bruno Sensei was such a wonderful person, who dedicated himself to Karate with his whole life; contributed to the development of IJKA in Europe among so many othters which had been well known to Karate world, and among your family.

We know how little words written on a page can possibly mean to you at such a time, and words can't touch the depth of sorrow for your loss, but may the joy of rememberance of him shared among your family help to sustain you during such a bleak time.

We will all miss Bruno Sensei deeply.

Yours truly,

Asai, Keiko
---
Dear Bruno Sensei,

When I was preparing for the seminar next week in Switzerland and look forward to meet you again, I heard sadly the news that you are unexpected leaving us forever.

As Master Asai passed away on August 15. 2006, we went to Japan for his funeral ceremony and met each other there. Your speech in the ceremony was filled with such deep feeling of sincerity and touched the heart of every one who was there. I can not forget that moving feeling until now.

After then you came to Taiwan several times to visit my father and we practiced together under his guidance. Your attitude was always so humble and therefore unforgettable for me. In the past few years, the disease has taken the vision gradually from you. Although you could not see well, but when I was in Switzerland, you still wore your Karate Gi and practiced seriously with us, sometimes moved even faster, pounched more powerful than before. I often mentioned your attitude and spirit with my students as a model for us to follow.

Maybe what I dream of at night reflects what I think about at daytime. Last night I saw you and Master Asai practicing Kakuyoku together in my dream. It was raining in Taipei. When I woke up in the middle of the night, there was also raindrops on my face.

Dear Bruno Sensei, I wish you to continue practicing Karate happily with Master Asai in Paradise.

Dear Bruno Sensei, let's meet in the next life and be brothers again!

(Keibou)
Chen,Hsin-Kuei
May 3. 2018, Taipei