A Complete Success at Master Asai Memorial Event & Tetsuhiko Kan Commemoration Ceremony At Taipei, Taiwan
At the joint event, the students of the IJKA Taipei Main Dojo Tetsuhiko Kan showed enthusiastic demonstrations and this was followed by the Assistant Chief Instructor Mr. Chen Hsin-koei and the Chief Instructor Mr. Chen Hung-tsung's demonstration on the Asai Karate techniques, which filled the hall with excited applauses.

In order to showcase Asai Karate, the students' demonstrations included the Junro Shodan up to the 5-dan, to Joko Issei to Joko Sansei, the world's newest form of karate, captivating the karate practitioners.

The disciples of Master Asai and their disciples came from all over Taiwan to participate in the event. Some saw old training mates for the first time in 30 years, others a little less; nonetheless a friendly atmosphere dominated the event.
IJKA Honored by Distinguished Guests from Taiwan Presidential Office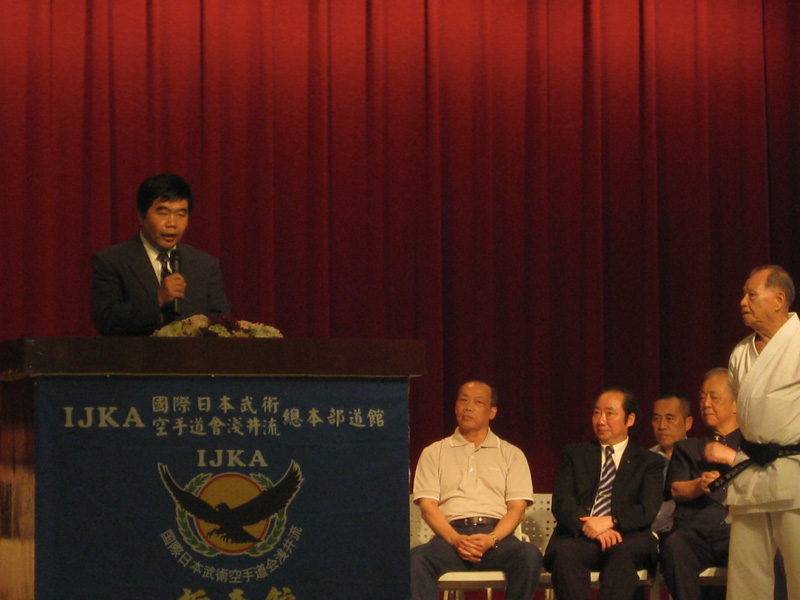 IJKA had the honor of having Mr. Rong Yee-jung as a guest from the Presidential Office, who gave a speech and celebrated the achievement of Master Asai.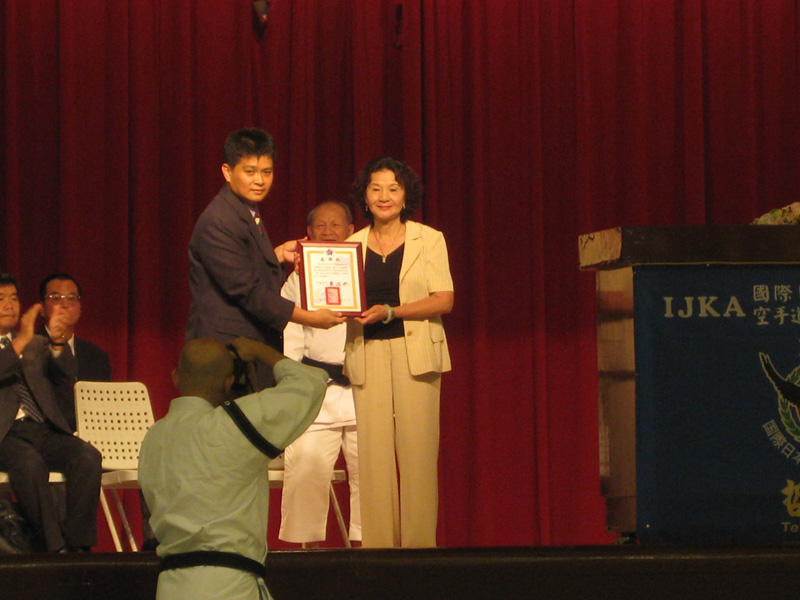 Mr. Fang Rui wen of the Sports Affairs Council under Executive Yuan, who by the order of the Minister Lee Chia-chin of the Presidential Office, presented a letter of appreciation for Master Asai.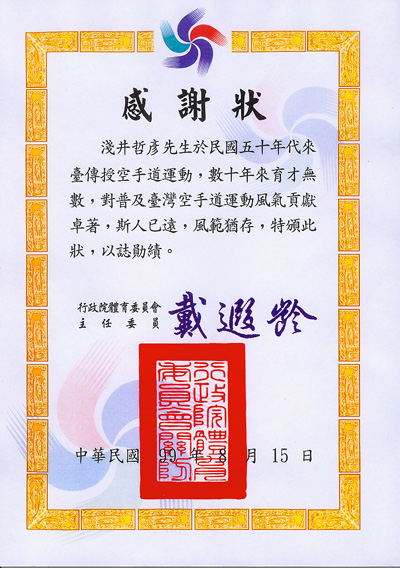 a llter of appreciation for master Asai


Much Media Attention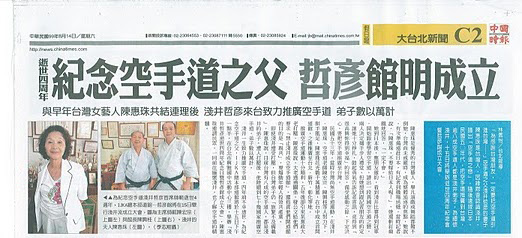 The event attracted much media attention and many interviews from local newspapers and TV stations were given.


Speech by Director Keiko Asai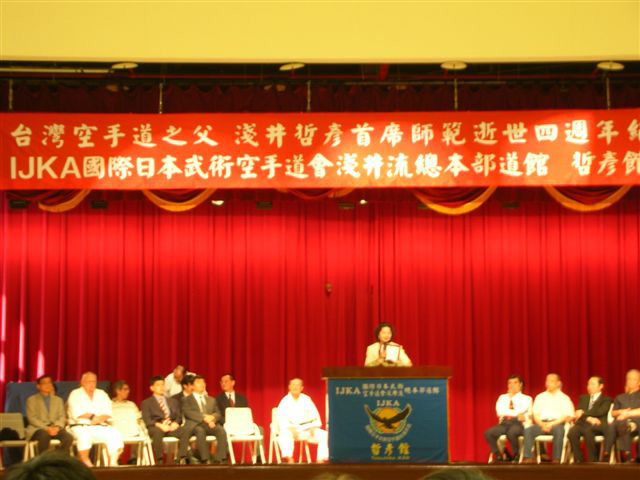 Moved by the reunion with Master Asai's desciples, Keiko Asai, on behalf of IJKA, gave the opening speech.


International Dan Certification Test Taken Place
After the event, a Dan promotion test was held, starting in the late afternoon until late that day. Abiding by the evaluation rules of Master Asai, Assistant Chief Instructor Mr. Chen Hsin-koei (7 dan) and Instructor Toshiyuki Kidokoro (5 dan) together evaluated 13 applicants for the Shodan and 3 applicants for the 2 dan. The evaluation for the next test was joined by Bruno Koller, 7 dan, (who came all the way from Switzerland) to evaluate 3 applicants for the 3 dan and 4 applicants for 4 dan. For the 5 dan evaluation, the Chief Instructor Mr. Chen Hung-tsung joined the other three judges. 2 applicants for the 5 dan, Wang Xu yu and Zhou Zhi wen, were thrilled to have passed the test, as they had been waiting for this for 7 years since the last test when Master Asai was still alive.
The climax was the evaluation of the 6 dan for Mr. Kidokoro, who was well prepared for this test mastering all new techniques of Master Asai. Mr. Kidokoro trained hard under Master Asai techniques such as Tenshin (Body transfer), even with bleeding feet. The result of the test was a well-deserved pass.

In total 26 applicants were evaluated for the dan promotion at the test.
| | |
| --- | --- |
| | |
| After Shodan and 2-dan evaluations, Mr. Koller joined the judges for 4-dan and 5-dan tests | Chief Instructor Mr. Chen Hung-tsung joined the judges to evaluate Mr.Zhou Zhi wen for 5-dan |
| | |
| | |
| Chief Instructor Mr. Chen Hung-tsung joined the judges to evaluate Mr. Toshiyuki Kidokoro for 6-dan/td> | The dan promotion test ended after six long hours. Tests were at the IJKA main dojo, Tetsuhiko Kan./td> |